Don't Shy Away From Small Spaces – How To Overcome And Create The Illusion Of Space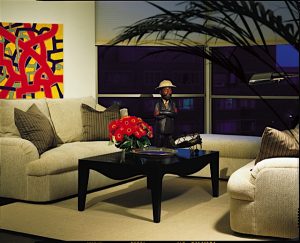 Although this article is written with people in mind who live in small apartments, there is nothing wrong with utilizing some of these ideas in larger residences to make a property seem even more spacious and exuberant.

One of the challenges to every interior designer, amateur or professional is to make each property look its very best, and for small properties such as apartments, creating the illusion of space is critical. The first rule, of course, is to remove as much clutter and unnecessary detritus as possible. A room devoid of clutter will always appear more spacious and airy.

Color Scheme

When choosing a color scheme, stick to one color for the whole room. The reason is straightforward. If you have a feature wall, for instance, it magnifies the width and size of the wall and draws the viewers eye to it. With one simple plain color, the eye is uninhibited and free to roam, giving the illusion of a much larger space.

Glass Is King

Barriers such as doors, immediately highlight the lack of space. Wherever possible, utilize glass to continue the illusion, while also letting more light into the room, creating a more spacious ambiance. In a similar vein carefully consider the use of mirrors to reflect light and trick the eye, but give careful consideration to the placement of the mirrors as wrong positioning can create the opposite effect.

Choose Appropriate Furniture

It might sound obvious, but large heavy dark furniture will look out of place and bring back the clutter effect. We want to buy furniture with legs; that lets the light flow underneath it, again extending the view for the eye and continuing the spacious feel.

Try to Have The Same Floor Covering Throughout The Apartment

For similar reasons as the color scheme point above, if you can put in wooden flooring across the entire apartment, then there is no visual shortening of distances. The floor gives the impression of being more spacious than it is, and even you will feel as if the apartment is bigger than it is.

Obviously, there is only a finite amount of space available to work with, but by following some of these points, and perhaps, more importantly, understanding the theory behind the choices, you can create the illusion of space. Don't be afraid to experiment or change things and most of all remember, it is your home, so organize it in a way that best suits your tastes and lifestyle, that's what matters more than anything else.
If you need help setting up your apartment in Chicago, please Call us today at 773.348.7796.